GOUTTE
Water governance on customary land
In New Caledonia, water governance is overseen by a specific institutional organisation endowed with a regulatory framework which is incomplete and sometimes out of step with local customs and practices.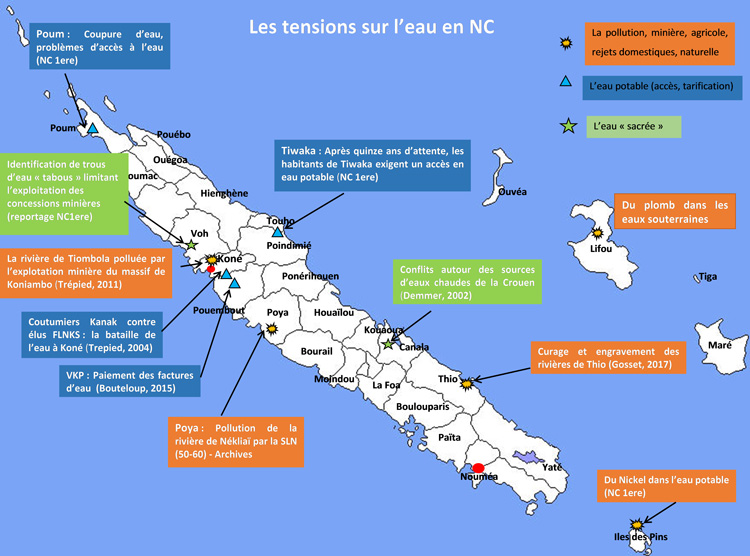 The institutional organisation varies depending on the land tenure status, customary land being excluded from the New Caledonia public waterways domain, in accordance with Article 44 of the 1999 Organic Law, as amended in 2009.
Tensions on customary land therefore arise in respect of "sacred" water, pollution, particularly from mining, and pricing and access to drinking water.
Several studies in New Caledonia have focused on improving knowledge of freshwater resources, in terms of both quantity and quality, but little research has been done on water-related know-how and customs or methods of water resource governance.
Thus, the aim of the GOUTTE project is to:
•    Gain an understanding of representations or protests linked to water in customary land, rooted in the bond between water and mankind, land, language and culture and the sacred;
•    Analyse the development of values, knowledge and customs relating to water on customary land in New Caledonia;
•    Analyse regulatory and legal frameworks, aiming to put divergences between international law and local practice into perspective;
•    Look at innovative rules of management and methods of governance, developed in collaboration with local stakeholders and based on representations, values and traditional uses, adopting an approach of integrated management of water resources throughout New Caledonia.
Project duration
23 month(s)
Project start date
January 2019
Estimated end date of project
December 2020
Associated program
Promoting organization
Project's holder

Project leader
Séverine Bouard
Research team / laboratory